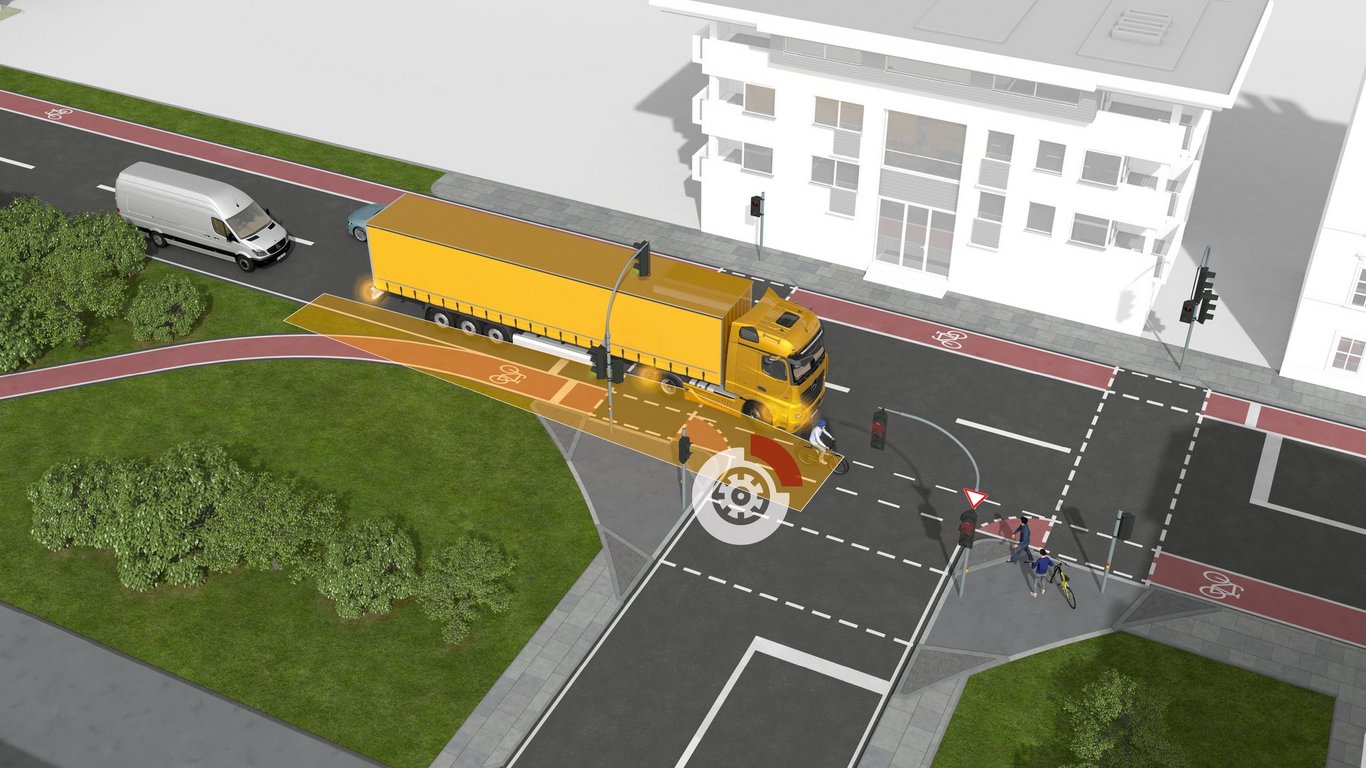 Daimler Truck is driving forward accident research in commercial vehicles.
Entirely avoiding accidents or, at the very least, reducing the severity of their consequences is a top priority in all model series from Daimler Truck. That is why new and effective safety and assistance systems are continually being developed for use in trucks, as well as why existing systems are regularly optimised. The commercial vehicle accident research department plays a central role in these efforts. Using their accident analyses, they create the basis for introducing improvements in the vehicles. This procedure is somewhat a long-standing tradition: since 1972, commercial vehicle accident researchers from Mercedes-Benz Trucks have been analysing selected accidents around Germany involving Mercedes-Benz trucks. The team collects data and information not only on the cause of the accident, but also on the accidents involved and any damage. We were able to develop and introduce many of our solutions on the market before there was even a legal ruling on them – this was the case with our Active Brake Assist, for example. With the aim of avoiding even more accidents, we have continually developed our systems and implemented them in our vehicles.
Mercedes-Benz Trucks will continue to develop its own assistance systems

The latest solution from Mercedes-Benz Trucks – the fifth-generation Active Brake Assist (ABA5) – is based on the interplay between radar and camera systems: In addition to the emergency braking function up to a speed of 50 km/h, ABA5 can also react to moving pedestrians. (Disclaimer: 3 Within the framework of the system limits or within physical limits)

If the system detects such a situation, ABA5 can initiate visual and acoustic warnings. If the driver fails to react, ABA5 can apply the brakes automatically – if necessary even down to a standstill. (Disclaimer as above) Optional systems in the new Actros afford even higher safety levels, for example Active Drive Assist which delivers partially automated driving (SAE level 2), MirrorCam instead of regular side mirrors or Sideguard Assist which can recognise pedestrians and cyclists. Starting 2016, Mercedes-Benz Sideguard Assist (S1R) has been available ex works (fully integrated in the vehicle architecture) for many models of the Actros, Arocs or Econic model series, and since 2019 it can also be retrofitted to numerous model variants of these same model series (for vehicles as of model year 2017). For the Atego and those Actros, Antos or Arocs model series which cannot currently be equipped with Mercedes-Benz Sideguard Assist S1R, in addition to fully integrated or retrofit solutions, Mercedes-Benz Genuine Accessories has been offering Sideguard Assist basic as a retrofit solution since the middle of this year. Since June 2021, as an alternative to Sideguard Assist, Mercedes-Benz Trucks has also been offering Active Sideguard Assist (ASGA). The new safety system

can do even more than simply warn truck drivers about cyclists or pedestrians along the nearside of the vehicle. Up to a turning speed of 20 km/h, ASGA can also brake autonomously – even down to a complete standstill. (Disclaimer as above) Mercedes-Benz Trucks is the first truck manufacturer in the world to offer such a turning system with active braking function. Even the Active Drive Assist (ADA) assistance system for partially automated driving (SAE level 2) has been further developed by Mercedes-Benz Trucks. In June 2021, the newest generation – ADA 2 – was launched. The system can initiate an emergency stop if it detects that the driver no longer intervenes in driving over a prolonged period of time – for example as a result of a medical emergency. Initially, ADA 2 provides a visual and audible warning to the driver, requesting that they put their hands back on the steering wheel. If, after 60 seconds and multiple warnings, the driver does not react by steering, accelerating, braking or operating vehicle systems, for example via the steering wheel buttons, the system can reduce the vehicle speed and brake it to a standstill. While this takes place, the truck warns following traffic by activating the hazard warning lamps. If the truck comes to a standstill, the system can automatically engage the new electronic parking brake. In addition, the doors are unlocked so that paramedics and other first responders can directly access the driver in the case of a medical emergency. An initiated emergency stop can be cancelled at any time by the driver intervening.

Trucks: the Freightliner Cascadia is equipped with the emergency braking assistant

Even at Daimler Trucks North America, a growing number of safety systems are being used in trucks. For example, the Freightliner Cascadia is equipped as standard with the Detroit Assurance 5.0 Safety Package which also includes Active Brake Assist 5 (ABA5). Thanks to adaptive cruise control, which is available from 0 km/h, the truck can automatically maintain its distance from vehicles travelling in front – even in slow-moving traffic. With this and many more functions such as Sideguard Assist, Lane Keeping Assist or Steer Assist, the Cascadia is the first series-produced truck to offer partially automated driving functions (SAE level 2) in the North American market.

From January 2022, Active Sideguard Assist and Active Drive Assist 2 with emergency stop function will also be available for the Freightliner Cascadia.

Daimler Trucks Asia conducts pioneering work in road safety

With the vehicles of its Indian brand BharatBenz, Daimler Truck is also helping increase road safety on the streets of India. In a market in which trucks built on the basis of so-called cowl chassis – in other words, ex works chassis without an entire cab – represent an increasing safety risk, the trucks from BharatBenz are equipped with full cabs, anti-lock braking system (ABS) and a range of other standard safety features.

At Japanese Daimler Truck subsidiary FUSO, safety is also written with a capital S. Active Sideguard Assist (ASGA), which provides warnings but no automatic braking function in the Japanese market, is now available in all weight classes (FUSO Canter, FUSO Fighter, FUSO Super Great). Since July 2021, the FUSO Super Great represents an especially well-equipped vehicle, with such features as Active Drive Assist 2. Active Brake Assist 5 is also available for the FUSO Fighter.

In the bus segment, the equipment of the Aero Queen and Aero Ace coaches includes safety systems such as the afore mentioned Active Sideguard Assist and Active Brake Assist 4. These coaches and the Aero Star urban bus also feature the "Emergency Driver Stop System" (EDSS), which can enable passengers to safely bring the vehicle to a halt at the push of a button if the bus driver loses consciousness or is no longer in a position to safely drive the vehicle. In Japan, FUSO is also one of the first commercial vehicle manufacturers to also install the Active Attention Assist (AAA) system in many vehicles of the coach classes as standard. This safety system becomes noticeable in cases

where the first signs of fatigue or inattention on the part of the driver are detected. It then issues a warning if the camera detects closed eyes or a long glance to the side.