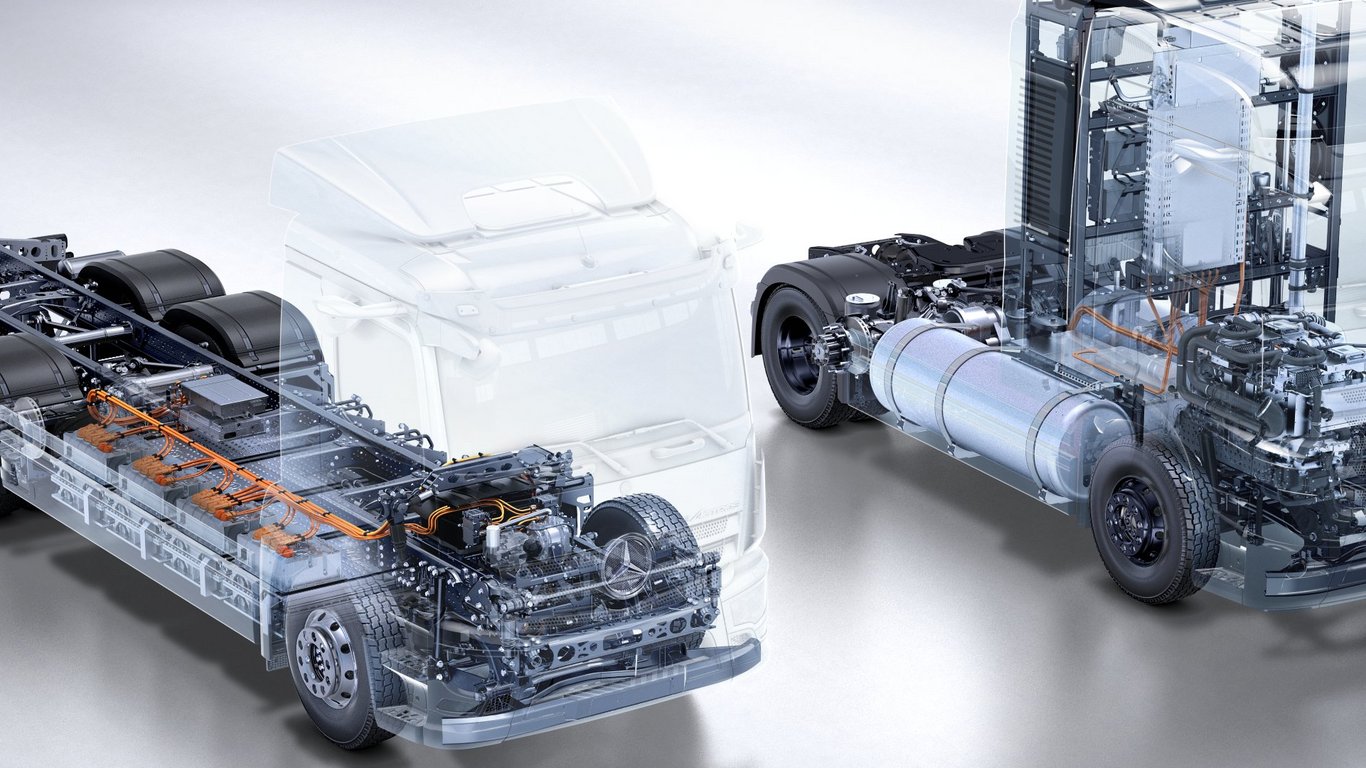 At Daimler Truck, we are clearly committed to the Paris Climate Protection Agreement.
Having CO₂-neutral transport on the road by 2050 is our ultimate goal.
To get there, we are pursuing a dual track strategy of battery electric and fuel cell. We're convinced both have a place in the market. Our customers will need both technologies. The rule of thumb is this: The battery is better suited for lesser loads and shorter distances, and the fuel cell for larger loads and longer distances. In addition, we will need both technologies due to the requisite infrastructures. Because if the number of electric cars, trucks and buses climbs even close to as fast as we all hope in support of sustainability, batteries would most likely overwhelm the electricity infrastructure.
We want to avoid, wherever possible, bridging technologies that enable certain progress but not allow us to reach our ultimate goal of CO2-neutral transport.
We cannot and should not afford, either financially or in terms of time, to build additional systems and infrastructures in parallel that will not lead to the goal in the long term. Politics, business and society with all stakeholders must join forces now.
We were the first manufacturer to commit to e-mobility in heavy-duty trucks. Today, we have electric vehicles in customer use in all segments.

A global platform architecture is used for both drive technologies: the ePowertrain. This allows for important economies of scale to be realized, because regardless of whether battery or hydrogen, the essential components of the architecture for the ePowertrain remain the same.

Further information on Mercedes-Benz eActros, FUSO eCanter, Mercedes-Benz eEconic, Freightliner eCascadia, Freightliner eM2 and the Thomas Built Buses Saf-T-Liner C2 Jouley can be found here.

Daimler has been working on drive technologies based on hydrogen for more than 30 years. To date the company's fuel cell vehicles (cars and trucks) have traveled many millions of kilometers, demonstrating the marketability of this drive concept. In order to get the hydrogen drive into series production as soon as possible, Daimler Truck will make large investments.

We started testing the possibilities of fuel cell technology in trucks with the FUSO prototype "Concept eCanter FCell" (previously "Vision F-Cell") in October 2019.

The next steps are as follows: In the second half of the 2020s, we want to our series production portfolio to include electrically powered fuel cell trucks. The aim is for them to run on liquid hydrogen. The Mercedes-Benz GenH2 truck is currently being developed and tested. We are committed to hand it over to customers as a series-production vehicle from 2027.

In contrast to trucks, Daimler Buses is taking the first step towards fuel cell drive in local transport, i.e. city buses. Their routes, operations, and energy supply can be planned in concrete terms and thus quite predictable. The all-electric Mercedes-Benz eCitaro with a fuel cell as a range extender is currently under development.

Daimler Truck and the Volvo Group have founded the joint venture cellcentric with the aim of developing, producing and marketing fuel cell systems for use in heavy-duty commercial vehicles and other use cases. Further information can be found here.

Natural gas is a fossil fuel - and therefore it is at most a transitional technology on our way to CO2-neutral transport.

Truly CO2-neutral transport only works with battery electric or hydrogen-based drive. That's why Daimler Truck is consistently focusing on battery electric and hydrogen-powered commercial vehicles that can drive locally CO2-neutral.

All of our important truck engines of the latest generation can be fueled with alternative, so-called bio fuels according to the EU standard prEN 15940. These include the subgroups Hydrotreated Vegetable Oil (HVO), Biomass To Liquid (BTL), Gas To Liquid (GTL), Coal To Liquid (CTL). These consist of a variety of resources that are being converted to fuels through chemical processes.

Since the characteristics of these fuels according to norm prEN 15940 mean that they are absolutely comparable to conventionally produced petroleum-based diesel fuel, no modifications to the engines or their peripherals are necessary.

Daimler Truck is focused on developing solutions that have great potential for worldwide implementation. Due to the high infrastructure costs involved, and also considering of the rapid development of battery and fuel cell technology, the company we do not see potential in catenary trucks at present.

Daimler Truck is not against catenary trucks, but for realistic and timely solutions. We are convinced that with the battery electric truck we have a flexible and already available concept for the respective field of application - without expensive, time-consuming and lengthy planning measures. The eActros is already in series production. Yet, with the eActros, we will do a comparison test with the overhead line project eWayBW in the so-called Murgtal in the region around the city of Rastatt in southern Germany.
In public transport, there is no single customer scenario for electric buses – the use cases vary, for example depending on the range and topography. Thus, we want to give our customers choices and meet their needs best.

Our eCitaro is already available with the next generation of Li-Ion-batteries. Since 2020, eCitaro also comes to the market with solid-state batteries (lithium-polymer batteries). A battery-powered bus with a range extender (hydrogen-based fuel cell providing the high-voltage battery with power) is currently being developed.

Our electric bus also offers different ways of charging technology, meeting individual requirements of the transport companies. Innovative thermal management ensures efficient energy consumption and forms the basis for a practical range. More information on our product portfolio can be found here.

The Mercedes-Benz Citaro hybrid is available in a variety of model variants of the best-selling city bus Citaro. Thus, fuel consumption of the already very efficient conventional Citaro is further reduced, and even more so thanks to electrohydraulic steering, depending on the application and vehicle model. Lower fuel consumption quickly pays off for public transport companies. Society and the environment benefit from lower emissions.